Cheap ways to increase the value of your home!

Thinking of selling your home and want to increase the value without spending huge dollars? Then this article is for you. We have found some cheap ways to spruce up your home to make it more appealing to a buyer. You can also use these ideas if you are just looking to give the home you are living in a face lift.
Let's begin with the outside!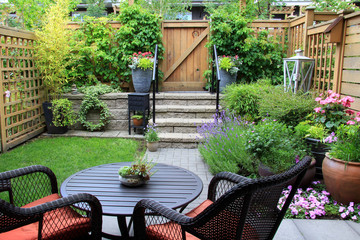 BACKYARD AND FRONTYARD
Do you have some spare space in your yard or on your porch? Why not create a seating area, place a nice setting out the front or set up a table and chairs under that nice tree you have in the back yard, this tells the buyer that your home has a place for everyone.
Let's take a look at the rest of the yard, first impressions really matter so make sure you have nice green grass that is well mown, get rid of any weeds, get rid of all those dead shrubs and get some new plants. Plants native to the area that don't require much watering are always more appealing.
OUTDOOR LIGHTING
Outdoor lighting can pretty up the exterior of your house and give people that feeling of being safe, they can also make a statement on the outside of the house. Make sure all the lights are working.
Now for the inside..
Let's begin with one of the most important rooms in the house.. the
KITCHEN
New taps, new cabinets, new lighting fixtures, some paint and tiles are cheap ways of sprucing up the work space. The kitchen is generally the first place the buyer goes to so make sure it is appealing.
BATHROOM
Some of the things you can do in the bathroom include changing over any old fixtures (taps, towel rails, showerheads and plugs etc.) Give the bathroom a fresh coat of paint, get some nice new towels and make sure the grout and tiles are looking clean and fresh.
TOILET
Is your toilet looking old and the bottom of the toilet stained, seat cracked? A new toilet is low cost and will make a huge difference.
FIXTURES AND FITTINGS
Change over the doorknobs, get some new and modern ones
Change over power points and light switches, most old ones have marks on them and can look grubby
Taps, drawer handles and cupboard handles can be changed over for a more modern look.
Change over those outdated lighting fixtures, replacing the globes can make a room look brighter
Add in some new USB ports to the kitchen and living room and maybe beside the bed. With technology fast becoming a way of life people will be looking for these.
PAINT
A fresh coat of paint to the entire house makes a massive difference, a nice neutral colour is always more appealing. Saves you scrubbing all those marks off the wall.
STORAGE AND ORGANISATION
Rid yourself of all that unnecessary clutter and mess, free up any spaces you can. Get rid of all those old toys, tidy up the bookshelf and free up any clutter on the counters.
Create some efficient storage spaces. Buy some cheap shelving, it can help the potential buyer visualise a space for their personal belongings.
Take down any family photos. Seeing your family on the wall can hinder the buyer from seeing their family in your home!
SINKS
Do you have tired and old looking sinks, that no matter how much you scrub you just can't get them to look clean? Then replace them, they will look great with the new taps you have installed.
FLOOR COVERINGS
If your floor coverings are looking a bit old and tired, and you're not in a position to replace them, then it may pay to get in a professional to clean the grout in the tiles, polish those timber floors or steam clean the carpet for you. If you can afford to replace the carpet that new clean smell is always appealing.
WINDOWS
Are your blinds and shutters worn out and old? Replace them with some new, low cost wooden blinds or plantation shutters.
FRONT DOOR
We talked about first impressions and the front door is the first place we first walk through when we get home so why not make it inviting. If you can't afford to replace it then a fresh coat of paint will make the world of difference.
ASK A REAL ESTATE AGENT
Why not consult with your local real estate agent and get them to come and have a look around your home. Ask them what appeals to the customers they sell to.
Some of the above mentioned things may seem minor but making the house look more modern can give that potential buyer the feeling of less maintenance.
We hope that you have enjoyed reading the above article and we hope that it will help you get some more money for your home or just make it more liveable.
"our experience is yours"